After our paragliding-roadtrip to Wilderness area last week we went back to Cape Town. The wind was back and we enjoyed kitesurfing again. While we went on a roadtrip there were many pro-kitesurfers who moved in the guesthouse we stay. They all arrived for the King of the Air competition sponsored by RedBull. The competition is about how high (big) and spectacular they jump. The competition should be held in the next two weeks as strong wind is needed. It's nice to watch them train going big.
This season I was keen to do something new, something I've never did before. Should it be a bungee jump? Or shark diving? No, I decided to go skydiving.
So I 'm with two friends drove to the small airport near Melkbos to Skydive Cape Town. A slightly shabby hangar waiting for us there. After we have been waiting for one and a half hours because they were a little behind schedule, luckily the clouds have adopted and we had a clear view. Sometimes it pays to wait :-) After a short instruction and adjustment of the harness, the Cessna was refueled. Now we could no longer hold back. The plane is so wide that two people can sit next to each other. I was the chosen one, which was allowed to jump first and therefore to sit at the exit. The old machine took off and we flew until we have reached the altitude of 3000m.
Then we passengers were strapped to our tandem pilots, the aviator glasses strapped firmly and the door was opened. I sat on the edge of the plane, stuck the legs back under the plane and off we went.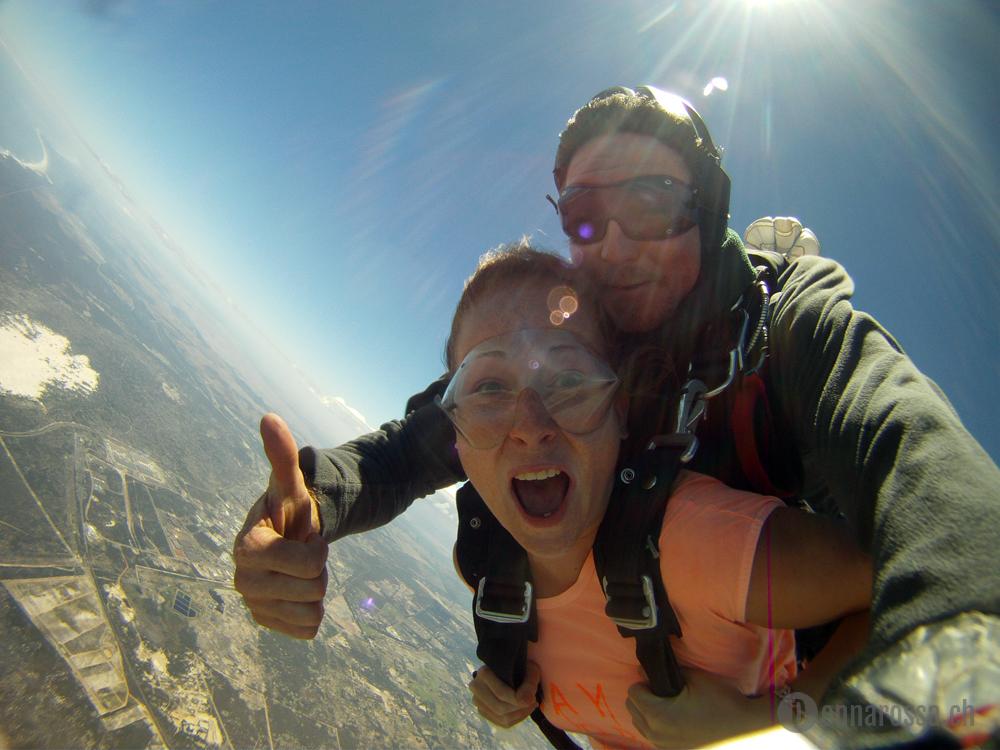 The free fall lasted about 30 seconds. I think I've only cried during the entire free fall. Therefore I have on all my photos my mouth wide open. It looks so stupid! (Notice for next time: close your mouth!)
After the parachute was opened and we went a little less quickly down to the landing area with sand. The parachute itself has higher sink rate comparable than a paraglider. And the forces to steer it are different. I had to pull very hard to make something like spiral.
What an experience! A few hours passed until I was able to digest the whole event and adrenaline overspill. In the afternoon I was as relaxed as ever and I rarely pumped so relaxed my kite up.
The past week was intense. I'm proud of myself that I have dared to skydive. The free fall is unforgettable. A year ago I wanted to jump, but was too alienated from the landing. From paragliding I know that landings aren't always gentle. Therefore, I was not sure if my knee can withstand a parachute landing. But the landing was very smooth and everything went great. All in all is was just great! But still, what an effort for a couple of seconds…
Next week the RedBull event take place. I hope we have more wind than on the training day. And as it will be my last week I hope I have more kitesurf sessions until I'll fly back home…