Two days after the Stitching Retreat 2015 I went to Berlin. I looked for a break and a nice treatment. In May the first bigger yarn event in Berlin took place: Berlin Knits 2015. As it was ten years ago since the last time, I elongated my stay to see more from this city. Time for a roundup.
Over this long weekend there was a bank holiday and almost every hotel fully booked. My friend Vera and I decided to try AirB'n'B. We had a room close to Arkonaplatz in Berlin Mitte. Perfect location with lots of restaurants and shops around the corner – though it was quite.
We met another knitting friend from our weekly knit'n'sip nights. At the same weekend she was in Berlin too and we met for sightseeing.
We had three days for sightseeing and shopping. After two days of walking through the city, we looked forward to do a boat tour. The tour was three hours long and we saw almost every highlight along the river Spree and the canal.
As I still wore a brace for my shoulder, I wasn't too fancy for shopping. Well, the most difficult part was to change for a top. So I asked my dear friend. Luckily we have the same figure :-) And she did very well to try on the stuff I was looking for.
After three days strolling around the city, the time was ready for the yarn festival. It was Vera's first yarn festival. She was so excited, she couldn't get enough sleep. Sweet!
We both booked a class in the afternoon and went early to the festival to get a chance to see those great yarns. The festival was held in a former supermarket. There was enough space between the booths. Very early people asked for seatings and they helped themselves.
The organisers had a two festival specials: an extra dyed color "Jewitta über Berlin" (thunderstorm over Berlin) by Wollmeise with a shawl pattern by Veera Välimäki and a cowl pattern by Ankestrick and a special colorway by Madelinetosh for Tosh Merino Light "Mocking Jay". Both designs are shown in the picture above.
After our first stroll through the market we had a seat and knitted. Suddenly a tall guy run towards us and wanted a picture of the two of us. Well, when Stephen West asks for a picture you can't say no, right? We both wore his last MKAL shawls "Exploration Station".
Later the afternoon we had the class about tessellations with Jana Huck. A tessellation is the tiling using one or more geometric shapes, called tiles, with no overlaps or gaps.
The class duration was official 2.5 hours. We started half an hour later, because the attendees were late and the teacher had to install herself. Jana started her Power Point presentation and it was disappointing to see, she still uses the logo of the Hamburger yarn festival from last year. Seams like she did the class there too. In the presentation she showed a couple of examples, but I wished there were real examples which I can touch and feel. It wouldn't about copying the patterns, it would be more about seeing the techniques she used and how the pattern looks on the wrong side.
After one hour presentation we used our homework. We cut the knitted striped fabric, but first we saved the stitches by seeming. These techniques is called steeking. Jana uses steeking to get a more textured fabric. I wish, she would had an example with her. I wonder how the wrong side looks like. After everybody cut her homework, the class was finished. What a surprise! The class took only one and a half hour. There would be enough time to show us how to sew the pieces together. But she gave us the instructions on paper. Anyway, it was an experience.
The next day we went again. It might be the chance that we missed something on the first day :-) On sunday there were less visitors. And there was also time to chat with the vendors. Some of them I met years ago. I really enjoyed it.
I bought yarn from Walk Collection, Bilum, Ponderosa, Malabrigo (by Mylys) and Zauberwiese. Since a long time I was fancy on those gradient sets dyed by Zauberwiese, but they hit the magical limit for shipping to Switzerland (costums fees…). Finally I got one.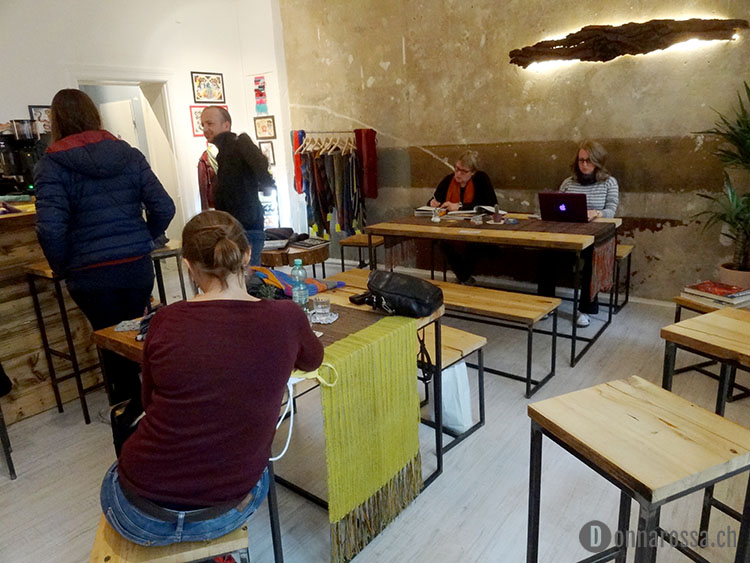 In the afternoon my friend Vera and I wanted to find a good place for coffee and cake. And knit of course. The day before we met Marc Smollin and Distelfliege (Podcast und Blog) and they talked about this place.
We went to the coffee shop in Kreuzberg called "Ragu" (Lübbenerstrasse 23, Berlin-Kreuzberg). This place is runned by Marc Smollin (a knitwear designer) and his partner. The intentional idea of this place was to serve everyday ragu, a traditional italian dish. In the meantime they serve italian coffee and yummy cakes.
The place looks like Marc's knitting and spinning corner :-) Everything in the coffee shop is made by Marc. He loves to knit, spin and weave.
We had one of the best carrot cake (made by Distelfliege)! Awesome!
What a nice ending for our trip. My friend and I had a great stay in Berlin. The city offers great stuff for everybody and for sure there will be a next time.